THE EMMY BLOG!
Dust off those evening gowns, break out the Jersey Shore bronzer and roll out the crimson carpet, it's time for the biggest award show in television: The 62nd Emmy Awards, which will broadcast live on Sunday, August 29th at 8 p.m. Eastern time. Technically there's about 3 weeks left until you get to glue yourself to the television and turn green with envy over your favorite glamazons during the live Awards show, but it's not too early for the judges over at the Academy of Television Arts & Sciences. The list of nominations are out and all the hottest sitcom stars are jumping for joy or screaming at their agents over who's "in" and who's "out." As you may not know, the list is pretty lengthy and almost all of the popular shows appear on the list, however, only one can bag 24 NOMINATIONS! This beats last year's bully, NBC's comedy 30 Rock, which captured 22 nominations and walked away with 5 Emmy wins. Which show has trampled the competition? Could it be everyone's favorite chorus line? A newly single ad exec that never fails to exude the perfect combo of sex appeal and masculinity? Or perhaps America's infatuation with blood-sucking, country twang-speaking superbeings is in the lead? After the jump I break down the top television shows, and where they fall on the list of Emmy nominations.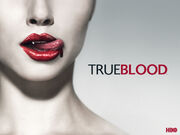 True Blood: Violently addicting, YES. The show with the most nominations, NO. Sorry for all you Stage-5 vampire clingers, as awesome as this HBO drama is, the 5 Emmy nominations it received is nowhere near the top of the list. Although, 5 is a respectable number and I would not be surprised if the timely addition of werewolves (a la Twilight?) to the series secures at least one Emmy for Season 3. Almost cult-like in its following, True Blood has become a household name among viewers who range from tweens to young adults, from junior high pre-pubescent types to legally aged HBO-addicted, adults. Sookie and Bill's complicated infatuation alone inspires me to YouTube the episodes just to keep up. And those who are blessed to have Comcast On-Demand can obsessively watch each episode over and over, hypothesizing over who will be the next victim or what new creature will soon be introduced. Either way, the mixture of country accents, pale bloodsuckers and mythical storylines create a recipe for success. The fight between good and evil keeps us at the edge of our seat, experiencing withdrawals between seasons. Doesn't it sort of remind you of the withdrawals vampires experience without their usual supply of fresh human blood? Hmmmmm…. …coincidence? You decide. And while you're pondering such a thing, fill your craving over at the True Blood Wiki.
So You Think You Can Dance: Full of talent, YES. The best reality talent reality show on television, NOT SO MUCH. Better than Dancing with the Stars; ABSOLUTELY. Eclectic choreographers instructing fit, muscled men and flowy female dancers with killer legs and amazing flexibility, you can't go wrong. Even the host, Cat Deely is one of the least annoying of all the reality shows hosts, by far beating Ryan Seacrest in the personality department. Furthermore, SYTYCD has not completely crossed over into the realm of ridiculousness, as many reality shows tend to do after a few seasons (i.e. American Idol). These all being great reasons why SYTYCD landed a solid 3 Emmy nominations. I admit, the worldwide dance auditions are entertaining and getting to know each dancer individually adds to this dance show's appeal. Even the panel of judges is pretty decent, once "screamer" Mary Murphy was replaced. I find that their criticisms are well founded and even the harsh comments are understandable. Currently in its eighth season, SYTYCD introduced a twist, bringing back the audience's favorite dance competitors from past seasons to participate alongside the newbies. Not only is this show beneficial to our closeted dance moves, but contestants who appear on the show often continue to reach high levels of success after show: being cast in movies, other television shows (American Idol, Dancing with the Stars, America's Best Dance Crew, etc) and opening up dance studios and teaching lessons worldwide. In fact, one of the Season 8 veterans, Steven "Twitch" Boss, who never fails to entertain audiences with his pop-lock trick moves, can be seen on the silver screen in the dance movie franchise, Step-Up 3D, released August 6th countrywide. Dances, choreography and more at: So You Think You Can Dance Wiki.
Mad Men

Unlike some of the previously mentioned, Mad Men was one of those underrated, best-kept secret on the AMC channel. This isn't too surprising since the AMC channel doesn't exactly scream sexy and entertaining. But that's exactly what Mad Men is. Set in the 1960s, this drama exudes a subtle sexiness portrayed best by the main character Don Draper, starring Jon Hamm. In the past year, Mad Men's sophistication and historical relevance has won hearts across the board. More importantly, those who could care less about the history and social norms of the 60s simply are in love with the fashion. The female characters' exquisite style has reached iconic status, something very rare in the current age of television. Admittedly, I have scoured the internet hoping to find websites dedicated specifically to the Mad Men style and fashion. There's something spectacular that occurs when old fashion becomes new fashion. For the male audience, there is enough masculinity to spread around, as the plot centers around a mostly male advertising agency, identical to many corporate agencies of its time. Don Draper is to be admired, with his rough charm and unassuming playboy habits. You don't have to like him, but you have to respect his style. A man's man.

The show is historical, nevertheless, claiming the title as the FIRST basic cable series to win the Emmy Award for Outstanding Drama Series two years in a row: 2008 and 2009. This year, Mad Men is up for an astounding 17 nominations, with only two shows out of hundreds beating that number. If that's not outstanding, I don't know what is! Check out more pictures, discussions and episode recaps at the Mad Men Wiki.
Glee: Sounds as bubbly as Bubblicious Strawberry Gum? It does. Annoying mass of overly cheerful sopranos and baritones? Depends on what you find annoying. (I can only tolerate musicals in doses) And that's what Glee is, a dose of mindless fun. But it isn't as bubbly as expected. Tackling controversial subjects like sexuality and teen pregnancy, Glee's issues are as real as the complex harmonies. Right behind The Pacific in Emmy nods, Glee respectfully secured 19 nominations. This musical/comedy drama follows the trials and triumphs of a high school Glee Club, upping it up a notch by having the students performing your favorite chart topping pop hits. These teens are bouts of walking talent, singing songs from artists such as the great Madonna, risky Rihanna and even Coldplay. The music is so good that all of today's hottest artists are begging their managers to get on this Fox hit. The likes of Britney Spears and Justin Timberlake are rumored to appear in Season 3, which begins September 21, 2010. Thus far, rapper Eve and Hairspray-icon Olivia Newton John have been initiated in the Glee fraternity of guest stars. The diversity of guest appearances alongside the true talent and genuine LOLs make Glee a treasured guilty pleasure of television viewers. And it doesn't hurt that this is one of few shows that an ENTIRE family (from little Billy to Grandma Sue) can watch together and be entertained. So head to the Glee Wiki now catch up on your favorite high school music club.
The Pacific: An underwater documentary on shark week? No, that's another popular series. A typical cliched war story miniseries? Not at all. An artistic, tasteful tribute to the "Pacific War" Marines. Absolutely. I must proclaim this series a bonafide hit as it reeled in an unforeseen 24 WHOLE NOMINATIONS. The nods range from Outstanding Miniseries (obviously, I mean if there were any other miniseries this year no one has heard of them!) to Outstanding Writing for a miniseries and even for Outstanding Main Title Design (which is an unknown category that induced my skepticism until I SAW the main title used and realized it IS pretty FLY). When I searched for more information, including asking close friends about the series, I realized I might be one of the only people who was missing out on this amazing production. Then, I discovered who was involved in this overwhelming success. Not only is the world renowned Steven Spielberg executive producer but Mr. War Movie Actor himself, Tom Hanks, produces AND provides the narration for the episodes. (Seriously when you look up war movie actors Tom Hanks picture is there, really, I swear it is) Just hearing his voice solemnly reminds me of the emotional rollercoaster I experienced while watching Saving Private Ryan. Even better, the series' creation process is a story in itself. The Pacific is actually based off memoirs written by two former U.S. Marines who fought in what was dubbed "The Pacific War" referring to the battles occurring after Pearl Harbor up until Japan surrendered to the United States after the Hiroshima bombing. I myself am now determined to read the books, and if you are as well the names are With the Old Breed: At Peleliu and Okinawa by Eugene Sledge and Helmet for my Pillow by Robert Lecke. Both authors are featured as main characters in this true-to-life story of heroics and sacrifice. The many characters, some factual and some factual can be explored at The Pacific Wiki. The ten-episode series aired on HBO on March 14, 2010 and by the time it ended on May 16, 2010, it had already dug its trenches into homes everywhere, reminding the elder generation of a time of honest war and glory, and teaching the young whippersnappers a lesson on true sacrifice in this country.

But enough with the preaching, what else can I say? The graphics are great, the battles scenes are heart-wrenching, and the characters are relatable. If you happen to have an HD TV, the flying bullets and bloody carnage can be excitedly unsettling. Sure, sounds testosterone-fueled to me too, but there is never war without love. True romance and broken hearts have their place in this series, too. The manliest person I know actually forced me to watch this, and while I initially had my eyebrows raised and eyes rolled, I kept coming back for more, dreading as the last episode neared. Already a favorite, I predict a resounding and rapid sweep come Emmy night. And if so, it will be a deserving one!
So be sure to use your hunches and make your bets, here comes the Emmys!
Ad blocker interference detected!
Wikia is a free-to-use site that makes money from advertising. We have a modified experience for viewers using ad blockers

Wikia is not accessible if you've made further modifications. Remove the custom ad blocker rule(s) and the page will load as expected.